Author: Brad Pillans, Director, National Rock Garden
Extract from National Rock Garden Newsletter No. 22, December 2021
Since the announcement of our move to a new site within the National Arboretum Canberra, earlier this year, the NRG is moving forward with renewed momentum – despite COVID lockdown restrictions in Canberra and elsewhere.
Assisted by a generous donation from long-time GSA member, Doug Finlayson, and his wife Caryl, we have commissioned Canberra-based landscape architects, Harris Hobbs Landscapes, to produce a landscape design of the new site. That landscape design, which is nearing completion, features meandering paths and themed rock clusters across the one hectare site that we have been allocated within the arboretum. Reflecting on his and Caryl's donation, Doug says 'I hope it might be a catalyst for others to dig into their pockets.' I couldn't agree more! We will have many expenses to cover in 2022 and now is the perfect time to make a donation, big or small, to the NRG – see page 24.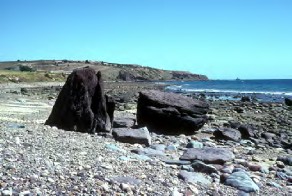 Doug and Caryl came up with the idea of a national rock garden during a visit to Finland in 2008, as Doug describes later in this newsletter. On returning to Canberra, Doug gave a talk to the ACT Division of GSA to promote the idea – it took off, and the NRG was officially launched in 2010.
Once our landscape design has been approved by ACT Government, we are hoping to begin site works in the first half of 2022, including installation of the first tranche of display rocks (20–30 specimens in the range of 5–20 tonnes each). Needless to say, our NRG state and territory rock selection subcommittees have been busy identifying and securing suitable rocks for display.
In November I met with Ngunnawal elders, Aunty Caroline Hughes and Aunty Mary Mudford, who have agreed to collaborate on developing a Ngunnawal welcome feature at the NRG. I also met with representatives from the Southern Tablelands Ecosystem Park (STEP), which is located adjacent to the NRG site within the National Arboretum, to discuss synergies between the NRG and STEP.
Design of our new website is well underway, funded by NRG partner, the Minerals Council of Australia, and we hope that it might be 'live' early in the New Year. The NRG also has a new logo, with the red and white stripes being inspired by the colour pattern of zebra rock, which has a pretty strong claim to be Australia's national rock, as described in the following article.
Climate change, specifically, global warming as a consequence of anthropogenic greenhouse gas emissions, is in the news almost constantly these days. However, it wasn't always so, as earth history reveals periods of major glaciation, when continental land masses, including Australia, were covered by Antarctic-size ice sheets. One such extended glacial period occurred during the Late Carboniferous and Early Permian periods (320–280 million years ago), when Australia was part of the great southern continent of Gondwana and southern Australia straddled the Antarctic Circle. We plan to display several rocks in the NRG from this interesting time period. Read more in this article by Marita Bradshaw and Mike Smith.
The NRG would not be a national rock garden without rocks from iconic mines such as Mt Isa and Broken Hill. In his article, Russ Lord highlights some beautiful rocks from both these mines.
Finally, in this issue, Ken McQueen investigates an impressive stone memorial column in Ballina, NSW and makes an interesting discovery. Enjoy!