Authors: Michelle Cooper and Sue Fletcher
Extract from National Rock Garden Newsletter No. 8, March 2014
On the Western side of the Blue Mountains and to the north lie the Gardens of Stone National Park and Hassans Walls Reserve. Here you will find the Capertee Valley, the widest enclosed canyon in the world, and pagoda rock formations: a combination of the hard ironstone and soft Narrabeen sandstone weathering at different rates, resulting in the unique pagoda rock formations. Hassans Walls Reserve has two types of pagoda formations — plated and smooth pagodas.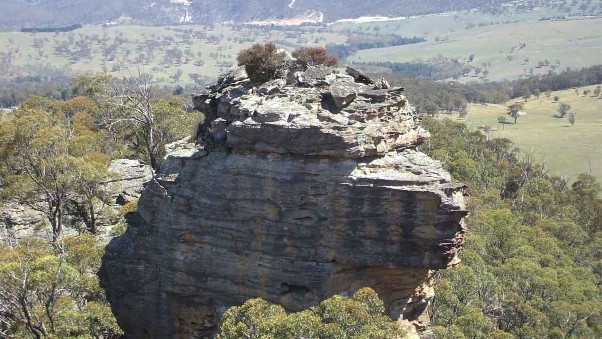 The geology
These parks sit on the western edge of the Sydney Basin. Most of the rocks of the Triassic Wianamatta Group and underlying Hawkesbury Sandstone have been eroded, and remnants can only be seen in the southeastern quarter of the Wollemi National Park, leaving the older Narrabeen Group of sandstones and claystones exposed. Rivers have eroded numerous valleys, with sheer cliffs up to 300 m high. Along the base of the cliffs in some of the river valleys the yet older Permian Illawarra and Singleton coal measures are visible. Remnants of the volcanism that occurred in the Sydney Basin in the Late Cretaceous and Cenozoic can also be seen. Diatremes, the cores of extinct volcanic vents, have weathered faster than the surrounding sandstone and formed saucer-shaped depressions that hold richer soil than the surrounding landscape (eg, Gospers and Davis Holes).
Basalts, that once covered most of the basin, remain as a cap in places, forming peaks like mounts Coricudgy, Pomany, Coriaday and Monundilla.