Author: Mike Smith, Director, National Rock Garden
Extract from National Rock Garden Newsletter No. 16, October 2018
The National Gallery of Australia (NGA) in Canberra is currently presenting an exhibition entitled 'American Masters 1940–1980'. The display opened on 24 August and closes on 11 November 2018. 'American Masters' examines how a generation of young Americans challenged local traditions and reinvented modern art. The exhibition covers Abstract Expressionism, Colour Field, Pop, Neo-Dada and Photo-Realism, Conceptual, Land and Performance Art.
At the entrance to this exhibition a very large work of art, lying flat on the gallery floor is immediately striking. For the visiting geologist, the piece is instantly appealing, because the artwork is made up a vast number of multi-coloured cylinders of rock. The piece is called Earth Monument to New York.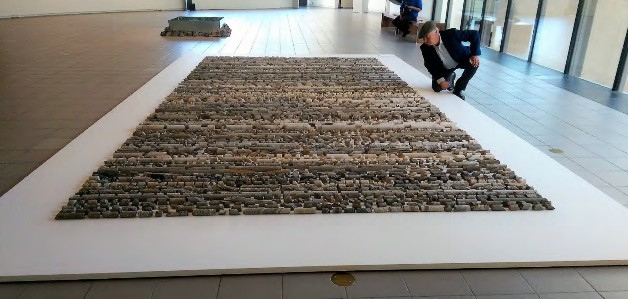 The US-based artist Alan Sonfist was born in 1946 and produced this work in 1979. It was purchased by the NGA in 1979. The plaque adjacent to the artwork explains that 'Sonfist creates work that makes visible the unseen structures and processes of natural materials and the environment. His work investigates humanity's interaction with nature'. The components of Earth Monument to New York are diamond drill core samples of stratified rock acquired from between 1.5 metres and 40 metres below ground level right across New York City.
Sonfist has stated 'My feeling is that if we are going to live within a city, we have to create an understanding of the land… We have to come to a better understanding of who we are and how we exist on the planet'.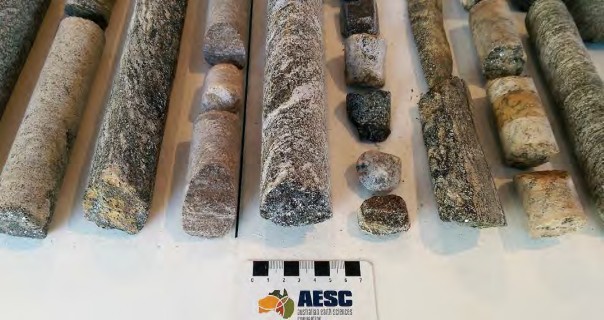 An interview conducted with the artist by John K Grande in October 2008 may be accessed at http://umintermediai501.blogspot.com/2010/04/alan-sonfist-natural-history.html. Grande comments 'Alan Sonfist continues to advocate, in his urban and rural artworks, projects that heighten our awareness of the historical geology or terrain of a place, earth cores become a symbol of the deeper history or geology of the land. His art emphasizes the layered and complex intertwining of human and natural history. He has bequeathed his body as an artwork to the Museum of Modern Art. Its decay is seen as an ongoing part of the natural life cycle process'.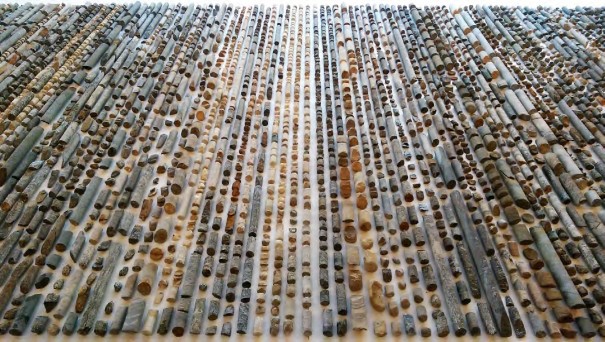 While providing a curious interest to our NRG Newsletter readers, the artwork links in with our acquisition of a wonderful sculpture in Adelong Norite by the Austrian artist Andreas Buisman (see invitation to attend event earlier in this newsletter).