Author: Mike Smith, Director, National Rock Garden
Extract from National Rock Garden Newsletter No. 17, April 2019
The NRG Steering Committee promoted the National Rock Garden at the Exhibition accompanying the Australian Geoscience Council Convention held in Adelaide in October last year. The figure on the right shows Brad Pillans and Mike Smith, NRG Directors, in the NRG Booth. Brad is holding a rather remarkable specimen of a rock known as Mookaite, which we offered as a prize for dropping a business card into a collection bowl.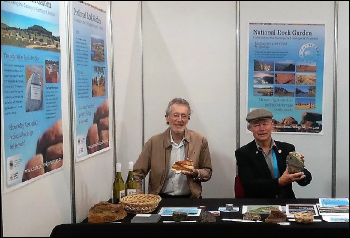 Mookaite is a visually striking gemstone found close to the Kennedy Ranges near Gascoyne Junction, a small town east of Carnarvon in WA. The name Mookaite is derived from its location at Mooka Creek, on Mooka Station, which was once a large sheep grazing property.
Mookaite is a type of chert or chalcedony, a fossiliferous sedimentary rock that is found in a formation called the Windalia Radiolarite. This specimen was kindly donated by Tom Kapitany of the National Dinosaur Museum in Canberra, we thank him for that support.
The prize was drawn by Jessica Keast of Prospectors Supplies Pty Ltd, who occupied the exhibition booth adjacent to the NRG Booth. Jessica is shown fulfilling her duties together with Brad in the image below.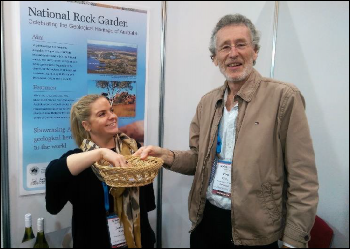 The winner of the wonderful specimen was Karen Webster, Senior Staff Geologist with Beach Energy Limited in Adelaide.
Karen was not available to receive the prize before the Convention Exhibition area was packed up, so Rowena Duckworth of the NRG Steering Committee, organised delivery of the rock to Karen, and Karen sent us the very happy selfie (below) holding the Mookaite rock.