Author: Brad Pillans, Chair NRG Steering Committee
Extract from National Rock Garden Newsletter No. 16, October 2018
In September, I was invited to attend the annual Mount Magnet Astro Rocks Fest, in the historic gold mining town of Mt Magnet in Western Australia. Held over two days, the festival featured a terrific mix of displays, talks, films and local tours on geological and astronomical topics. See https://mtmagnet-astrorocks.com/ for further details.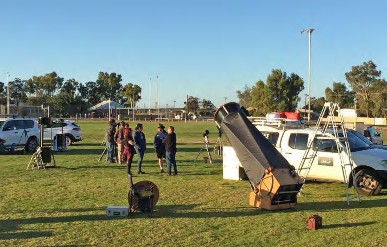 In my talk, 'Celebrating Mount Magnet rocks in the National Rock Garden', I was able to highlight the fact that we have a Mt Magnet rock in the NRG collection – Boogardie Orbicular Granite. I also held discussions with event organiser, Karen Morrissey, regarding her proposal to establish a local rock garden at Federation Park in Mt Magnet.
Boogardie Orbicular granite is one of Australia's most spectacular (and rare) decorative stones, which is why it was a 'must-have' for the National Rock Garden. The 5 large pieces that we have in Canberra were gifted to us by German philanthropist and adventurer, Wolfgang Kraker von Schwarzenfeld, who obtained the rocks from
Boogardie Station in 2000. Wolfgang also shipped five similar rocks to Germany, where they are on display in the Tiergarten, in Berlin, as part of his Global Stone Project (see http://www.globalstone.de/). [The five specimens in Canberra are on temporary display outside Geoscience Australia until such time as we are ready to place them on permanent display at the NRG.]
Immediately following the festival, I was thrilled to have the opportunity to visit the orbicular granite quarry on Boogardie Station and to meet the station owners, Paul Jones and his family. I would also like to thank Karen and Adrian Morrissey for making my stay in Mt Magnet so enjoyable. Mt Magnet is a small town with a big heart and I thoroughly recommend a visit, especially if it coincides with a future Astro Rocks Fest.