Ralph Bottrill, Senior Geologist, Mineral Resources Tasmania
Published in the National Rock Garden Newsletter No. 25, May 2023
The Owen conglomerate is a thick sequence of coarse siliciclastic sediments deposited in western and northern Tasmania during the Late Cambrian to Early Ordovician Periods (Corbett, 2003 & Corbett et al., 2014). The sequence around the Sheffield–Deloraine area has been called the Roland Conglomerate, but it appears effectively identical and is considered so for the purposes of this project. It extends from the south coast of Tasmania to the Beaconsfield area near the north coast. Formally known as the Owen Group, this rock unit is part of the Wurawina Supergroup; usually overlying the Cambrian Mount Read Volcanics and equivalents, and is overlain by the Moina Sandstone and Gordon limestone and equivalents, all Ordovician sequences.
This rock is important because it forms the exposed backbone to some of Tasmania's major mountain ranges, particularly the West Coast Range, Black Bluff Range and the ranges around Black Bluff. They are closely associated with, although not directly hosting, the Mt Lyell copper deposits, and are also closely associated with the Beaconsfield gold mine.
Owen conglomerate forms substantial topographic features such as Mount Roland, an imposing monolith with a majestic presence at the north-western edge of Tasmania's central plateau (McQueen, 2022). Mount Roland has an elevation of 1,234 m above sea level and stands 10 km southeast of the small town of Sheffield in northern Tasmania. The conglomerate blocks are characterised by typical rounded, white to grey and creamy coloured quartzite clasts to about 10 cm diameter, in a silicified red sandstone matrix (below). Commonly you can see small grains of black chromite and sometimes some green fuchsitic (chromian mica) patches.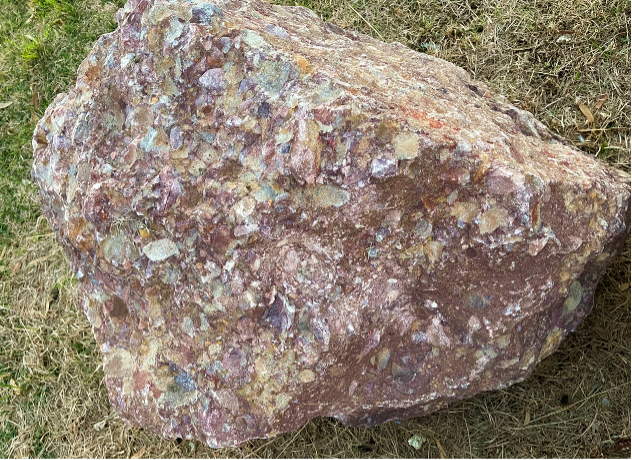 Three blocks of Owen conglomerate were recently extracted from the Stoodley Quarry, roughly 12 km NE of Mount Roland, in central north Tasmania, and brought to Hobart by Treloar Transport.
The NRG gratefully acknowledges Treloar's Stoodley Quarries of Devonport for donating these rocks to the National Rock Garden. This private company is a major supplier of construction materials (sand and gravel) in Tasmania.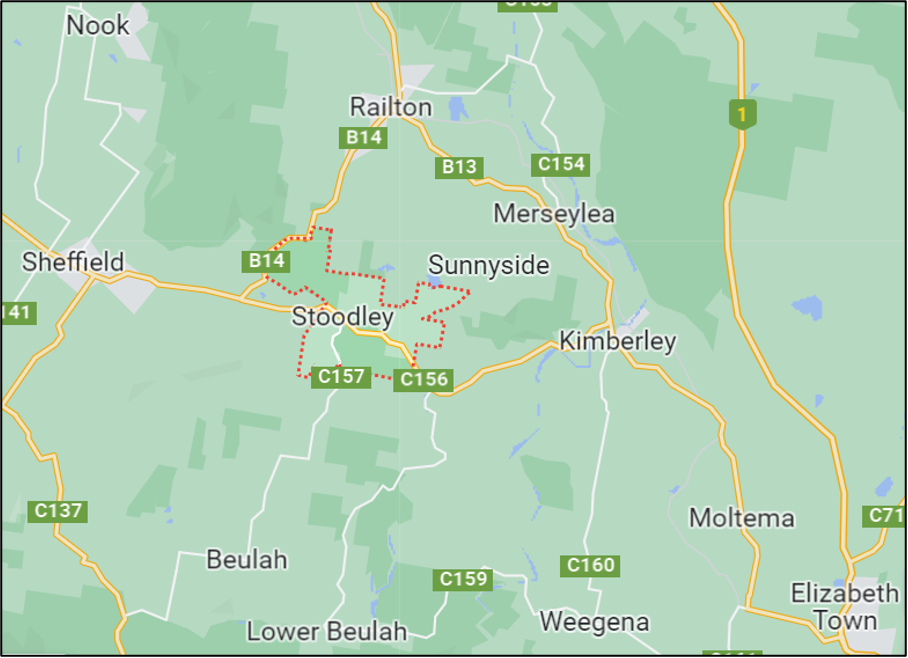 The specimens are currently being stored behind secure fencing at the Core Library of Mineral Resources Tasmania at Mornington on Hobart's eastern shore, until funding is raised to ship the boulders to the ACT.
The NRG Steering Committee expects to move these rocks into the new NRG site within the National Arboretum Canberra in the 4th quarter of 2023.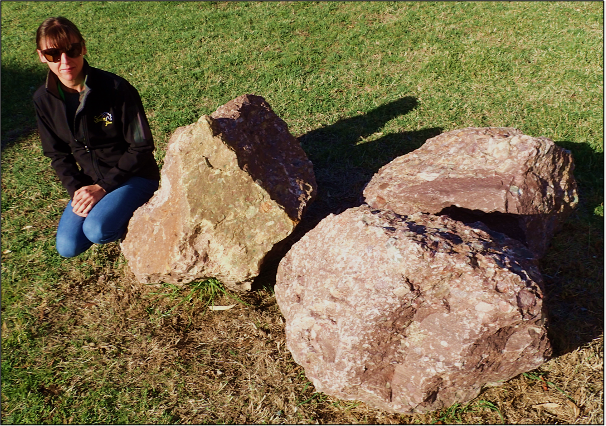 References
Corbett, K. D., 2003. Bedrock geological map of the Que River – Sheffield area, north-west Tasmania, 1:100 000 scale. Rosny Park, Tasmania: Mineral Resources Tasmania. https://www.mrt.tas.gov.au/products/database_searches/map_catalogue
McQueen, K., 2022. National Rock Garden on track to its new site at the National Arboretum Canberra, AIG Newsletter November 2022. https://www.aig.org.au/librar/newsletters/
Corbett, K.D., Quilty, P.G. and Calver, C.R. (editors), 2014. Geological Evolution of Tasmania. Geological Society of Australia Special Publication 24, Geological Society of Australia (Tasmania Division) 660 pp. https://www.utas.edu.au/__data/assets/pdf_file/0011/532982/GOTOrder.pdf