Author: Greg McNamara, Program Director, Australian Earth and Environmental Science Olympiad
Extract from National Rock Garden Newsletter No. 15, March 2018
During January 2018, the Australian Science Olympiad Summer Schools for Biology, Chemistry, Earth & Environmental Science and Physics were held at the Australian National University (ANU) in Canberra.
The Earth and Environmental Science Olympiad (EESO) Summer School has based its operations on the ANU campus at the Research School of Earth Science (RSES) since its inaugural year in 2015 and has visited the National Rock Garden each year as part of the field trip component of the Summer School.

The 24 High School students invited to attend the EESO Summer School all achieved High Distinctions in an extremely difficult and highly competitive national exam held in August 2017. These students came from the Australian Capital Territory, New South Wales, Queensland, Tasmania, Victoria and Western Australia and since its inception only the Northern Territory has not supplied a student to the program.
The students, enrolled in Years 9 to 11 when sitting the exam, all live on ANU campus during Summer School and participate in an intense 16-day program that sees them engage in learnings equivalent to or higher than a first year university course. Daily assessments and end of program exams determine which of the 24 students will be invited to represent Australia at the International Earth Science Olympiad (IESO).
The National Rock Garden provides the EESO students with an excellent opportunity to engage with a variety of rock types otherwise inaccessible to the program. It also provides the teaching staff with an ideal opportunity to combine this fabulous teaching resource with assessment tasks that embrace geoscience, team work, research and presentation skills!
Each group of three students, chosen by the teacher-mentors, is assigned an NRG rock and challenged to identify as much about the rock as they can on site in the 30–45 minutes assigned to this part of the fieldtrip. Afterwards, back at ANU, they have time allocated to research their rock and ultimately give a 5- minute oral presentation to their peers and teachers about it. The presentations are formally assessed by the teaching team using the criteria of scientific accuracy, research depth, team work in the field and in the presentation, originality, creativity and humour.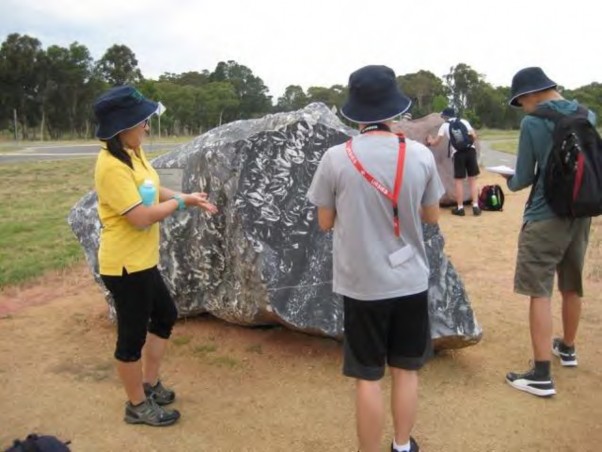 This year a new and rather perplexing rock at the eastern end of the display was assigned to one team that the teachers judged might be able to rise to the challenge. It was a large very lichen covered rock that could have been a micro-dacite but without an information plaque or nicely cut and polished surface they were certainly put to the test. A quick telephone call to Brad Pillans clarified that this was a block of Mount Gibraltar Microsyenite because at that time, in early January, there had been no NRG information published about the specimen.
Despite the sparse information available, the group in question went on to give a creditable presentation about the Mount Gibraltar Microsyenite and in fact achieved the highest mark out of all groups for their efforts.