This rock specimen contains evidence of the earliest bacterial activity on planet Earth. The specimen is from Redmont in the Pilbara region of Western Australia. It was quarried from a rock outcrop used to provide ballast (gravel) for the construction of the railway track from Port Hedland to the iron ore mines near Newman. The specimen is from the 2.7 billion year old Fortescue Group of rocks that lie beneath the Banded Iron Formation, a prominent rock formation evident across the Pilbara region of Australia. There are modern stromatolites growing in Hamelin Pool, WA, at the present day.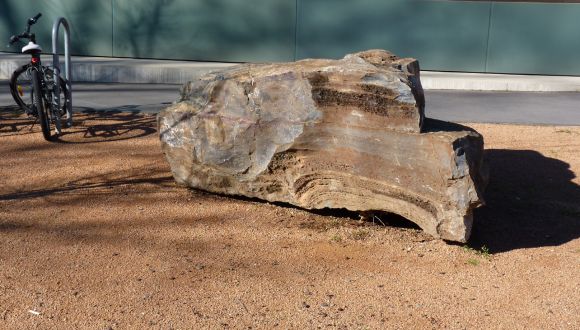 There is a strong link between geology of this specimen and the evolution of early life on planet Earth. It was initially brought to Canberra for an exhibition at the National Museum of Australia on very early life forms. Stomatolites are formed in a salt-water marine environment when a community of microbes forms mats and secretes a mucus that traps sedimentary grains, cementing them into layers. Because the upper part of the mat requires sunlight for photosynthesis, the mat grows upwards, leaving the layers that are seen in both modern and ancient stromatolites.
Evidence for the layering can be seen in the specimen rock. The microbial communities that made stromatolites younger than three billion years may have been instrumental in providing oxygen to the early atmosphere, which many scientists believe was mostly carbon dioxide and nitrogen before then.Stromatolitic limestone specimen rock at the National Museum of Australia.